Efrossini

Chaniotis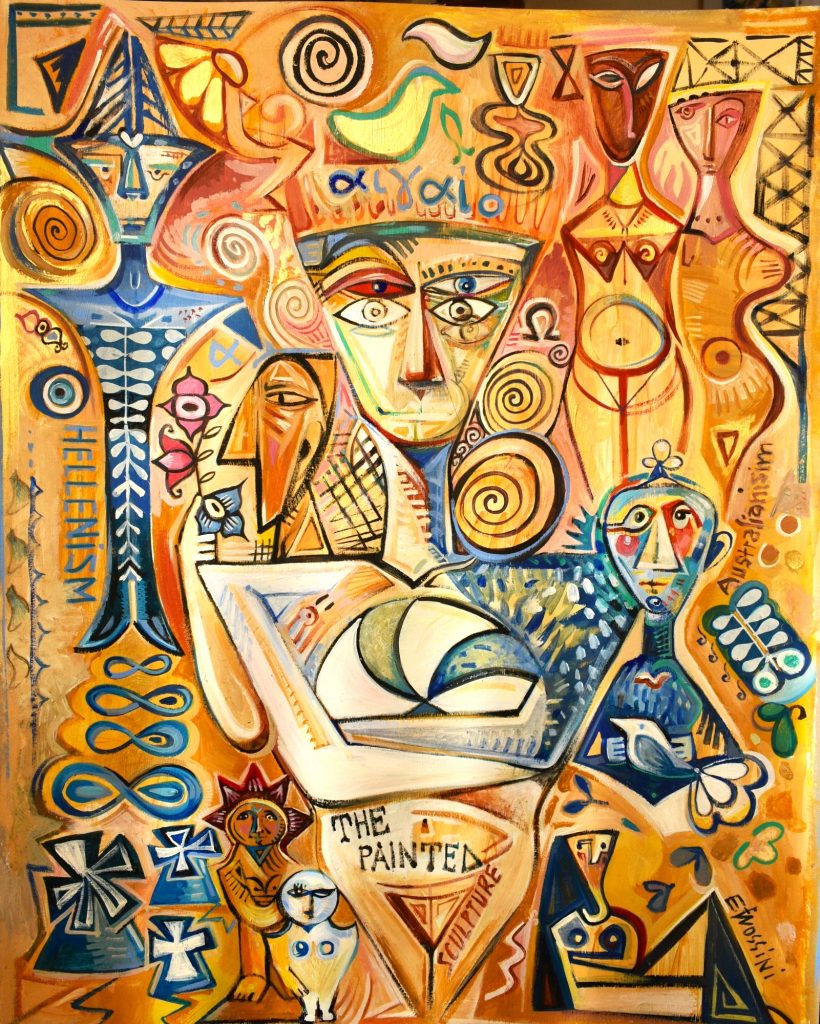 The Painted Sculpture, 2022
Acrylic on cardboard. 94 x 76cm
Artist Statement
The subject of this painting is a series of sculptures titled THE LITTLE MYKONOS PROJECT.
It is a graphic interpretation of the Cycladic art inspired figures I created as a ceremonial goodbye to my LITTLE MYKONOS STUDIO at the West Brunswick workshop. Honoring the many projects, connections and my creative life there felt paramount as I packed the last items in preparation for moving on to new adventures in other regions of Melbourne.
The studio was filled with energy and happenings very close to my heart. The day I received the keys to move in marked the final days of life for my mother. I flew to be with her leaving the studio dull of packing boxes. In the lead up to moving in I suggested to my mum that I name the studio Little Corfu in her honor but she insisted that it resembled Mykonos more and to baptize it with the name of my father's island. He had passed away 5 years earlier. I cut out carboard shapes with the characteristic motifs of the pigeon houses adorning the roofs of traditional Mykonos houses. I painted them white to resemble marble and fastened them to the window grid of the studio window, another curious element that reminded me of the Cycladic islands.
In the last year of mum's life, she had taken passionately to painting and I mentored her over the phone, (she was in Adelaide) and in person on my monthly visits. On her final days she asked me to take the 2 paintings she had left unfinished and complete them for her. They were the first things I painted in my new studio, carrying them and a heavy heart back to Melbourne.
My parents always supported my decision to become an artist. They were proud of me. I forged my own path.
The last day of vacating the space I removed the small cardboard cutouts to keep them as souvenirs. Moments later walking up my drive way with my arms full I had a vision of making sculptures of small figures, inspired by the bronze age marble figures found in ancient grave sites around the islands of the Aegean Sea, holding the cutouts. This was to be my way of expressing my gratitude to my parents, the studio that took on a presence of its own and nurtured my work for 5 years and finally to a creative vision that I know all too well to follow through on.
This painting captures my artistic exploration of these revered ancient relics and a creative journey to pay my respects to a special Brunswick adventure.