When this year's Antipodean Palette 10th Anniversary was shadowed by COVID-19, the GACL Art Team took to the net to organise the GACL's first online art exhibition, proving that artistic expression and innovation can rise from any challenge.
INTRODUCING OUR ARTISTS
Angy Labiris, Christos Avramoudas, Efrossini Chaniotis, Heidi Seraphim,
James Josephides, Jim Pavlidis, Luke Spiliopoulos, Maritsa Micos,
Mary Raphael, Menio Kottakis, Pavlos Andronikos, Kalliroe (Roula) Tsiatis,
Theo Papathomas, Tina Sideris, Tracey Yannopoulos
Titled 'In Isolation', the exhibition presents the work of 15 past Antipodean Palette participants during this time of physical distancing and self-isolation…Those wishing to view works created by the artists can now do so through the online gallery, hosted through Instagram, Facebook and the GACL's website. Selected works will also be featured in the bilingual Antipodes Periodical 2020 edition which will be dedicated to the Antipodean Palette visual artists.
Follow the AP2020 'In Isolation' Art Exhibition on facebook.com/gaclmelbourne instagram.com/gaclmelbourne

(Click on artwork for larger image)
ANGY LABIRIS
The COVID-19 pandemic has hit the world by surprise. We wonder when it will be over. There have been other epidemics but none that have forced us to change our normal behaviour to this extent. We all hope that we won't see one again in our lifetime. We can no longer travel. We can't go overseas – not even interstate. We are all housebound. We are isolated. We wait at home hoping that the virus will go away or will be conquered. We began to see improvement so we start little by little to behave again like normal human beings. We go out of the house, to a restaurant or for coffee. But things again change. We again retreat. Visual artists are still busy. The creative process continues in isolation. The virus has not stopped their work.  I have continued to paint but, as outdoor activities are restricted, I have concentrated mainly on indoor subject matter.  I painted a self-portrait contemplating the outdoor world. I set up indoor still life subjects or imagine the landscapes of Greece that I long to revisit.
CHRISTOS AVRAMOUDAS
This is not a traditional piece of art. The end product of this artwork is not the principal focus. It will better serve my purposes if this piece were viewed as a creative journey that redirects to the source through visually creative expression, the use of imagination, symbolism and memory, the examination of feelings, emotions and thought processes and the initiation of actions. As an introverted person, I prefer solitary activities rather than interacting with large groups of people. For this particular artwork I deliberately tried to minimise external stimulation as much as possible and create a bubble between the world and nothing.  An isolating bubble between non-existence and a world of meaning which derives from consequence and commitment. With this artwork I've tried (and am still trying) a dynamic interplay between the use of descriptive modes of representation and an interrogation of the binary oppositions that constitute its structures: unity-fragmentation, the male gaze towards the female body, subject-object, up-down, left-right, front-back, conscious-subconscious, self-others, introvert-extravert, memory-reality, middle class-working class etc. It is a three-fold presentation that consists of three equal parts: (1) the painting largest in scale, (2) a series of drawings, or parts of the painting, or versions of it in chronological order, and (3) a written text that is mostly explanatory, and which tries to create an inviting environment for all members of the audience to initiate discussion with me, or others, about the systems of knowledge or beliefs that produce pieces of art today.
EFROSSINI CHANIOTIS
Sitting at my window of my 1st floor, one-bedroom, suburban apartment, I looked out onto the quiet road.  Though I had a horizon to gaze upon, more often all I sensed was the close proximity of 'concrete' and the physical distance from being far away from everywhere else! My 'inside' and our collective lock down, inspired me to imagine idealized imagery of what existed outside, beyond Melbourne city. Art gives you the power to create whatever you desire and so that is all I did, non-stop. I escaped into imagery of strength and confidence, sensuality and innocence, independence and kinship, domestic and wild, inner space and expansive space, escape but not disconnection. My modern icons depict sensual, independent musicians with bare feet, with the outside natural world merging with the safety of home. To make the painting's reality even closer, I painted the female subjects seated on the furniture and on rugs and surrounded by objects that also surround me, in my apartment.
www.efrossiniart.com
www.moderniconart.com
facebook.com/efrossiniart
Instagram.com/efrossiniart
YouTube Efrossini Chaniotis 
efrossiniart@hotmail.com
HEIDI SERAPHIM
Ghost Town- Fractures of Moments…
He is looking from a distance at the fading city lights. He is gazing at a city that was vibrating once with colorful sounds and now is sinking into the whispers coming from the courtyards. He brings back from his dusted memory her laughter, her fingers running on his back, the barefoot long walks on the beach…all their moments before isolation. She is sitting alone and puffs in and out the white smoke coming from her cigar. Last pleasure, she thinks. She looks at her mobile, whilst trying to adapt into the new reality. Coronavirus, Covid- 19, pandemic, social distancing, isolation, no matter how you call it, the conclusion is still the same. "I AM ALONE", she thinks. She misses his laughter, the way he whispered into her ear, before she fell asleep, the sense of his fingers into hers, the smell of his skin…
"What day is it…?"
The parking lot is empty, covered by a strange fog. The signs were left alone to give instructions only to shadows and car outlines. They both remembered how they met there back in the old days.
"You have a parking ticket on your windscreen", he said.
"No I don't", she replied.
"No, you don't… but now you have my phone number" and he placed a piece of paper under the wipers.
Now he keeps on staring at the city's distant horizon and she is looking at her phone screen…
Her phone buzzed…
"When it falls down… we'll be two souls in the ghost town…"*   
*lyrics from Ghost Town – Madonna
JAMES JOSEPHIDES
'In Isolation' speaks of the unique positions of individuals within their collective flowerbeds. Each one of us "pollinates" the world with our actions, views, thoughts, and ideas. As the world goes through a continuous cycle of life and death, we too, plant "seeds" with our conscious and subconscious thoughts. These thoughts grow and become new blooms that sprout with movement of life, across every facet of Earth. At times of sudden upheaval, challenges arise. Our emotions are "tested". A silver lining however, exists even amongst the darkest of days. When we embrace these unexpected changes, and assess our inner self and perspectives, it encourages us to be more aligned and present along our path in life.  As flowers go through seasonal changes, we too experience seasons of emotions throughout life. Optimism plays an important role in encouraging and achieving a balanced direction when faced with challenges. It is when we accept the unfavourable, we allow the favourable to flow into our lives. Just like a flower, it adapts itself accordingly. They withstand external conditions, and find the necessary nourishment in their surroundings in order to allow new growth to develop; to blossom. We learn valuable lessons, especially during times of isolation. We have the ability to grow, learn and share from one another, when mastering through the eyes of one's self.
jamesjosephides.com.au
www.facebook.com/jamesjosephides
instagram.com/jamesjosephides
JIM PAVLIDIS
This recent lithograph depicts a small and remote mountain chapel on the Greek island of Tinos, which has often been in my thoughts during the pandemic lockdown. For me, isolation has been a positive time as it's provided an opportunity to pause and reflect on life. While this might be considered a luxury in Melbourne, where being busy can be a measure of worth, I imagine it's a normal part of life for the local folk who visit the mountain chapel.
www.jimpavlidis.com
Instagram.com/jim.pavlidis
LUKE SPILIOPOULOS
People often find themselves stumped by the thought of creating art. That each piece must contain a strong expression and conviction, that it must be of purpose. I believe you can find more than enough substance in the appreciation of everyday objects, people and locations by showing these things in ways that pronounce their qualities. You can find endless intrigue in every scene of every day and as an artist I strive to present these moments in my pieces through my own eyes and whatever meaning that a viewer my find while looking at them is as true as the ones I may have had while painting them. I find this true for all works of expression, art or otherwise.
Instagram.com/lukespillo
Twitch.tv/likespilloart
MARITSA MICOS
Isolation meant escaping into new values through the study of new methods of mark marking. A new language formed during my art practice in isolation, one which housed quieter spaces and denser colours.  I am currently playing with the idea of leaving information out…the idea what if less is more. The challenge was not to translate everything I see, but rather create spaces which house the information, through this idea I was able to work with new techniques, using new tools to make marks, tools around the house were revolutionary.  The German expressionists and their use of colour currently influence me.
www.saatchiart.com/maritsamicos
Instagram.com/maritsa_micos
MARY RAPHAEL
Pandemic, lockdown, isolation… Covid-19 caught us unawares.  Confusion, fear, anger, anxiety, so many changes in our everyday life.  What is this? Where did it come from? How? Strange, so many questions and no answers.  One day we have freedom, motivation, visits, dreams, plans. The next alone in the house.  Days pass, more anxiety sets in. What do I need to do to keep me sane and help me get through these trying times?  Difficult to feel creative right now. Important to focus on doing something, anything.  I begin walking; through the park, down to the beach. People walking in the park, walking the dog.  I hear laughter.  Nature surrounds me.  Green grass, blue sea, colour, space, energy, spirituality, inspire me to express this on canvas. How uplifting!  Good thoughts return – my travels, my journey in life, my art, healing, wellness, freedom.  Nature is my inspiration.  Now I am motivated.  Suddenly I need to paint.
www.facebook.com/maryraphael.art
instagram.com/maryraphael.art
MENIO KOTTAKIS
As a photographer I wanted to add to the In-Isolation exhibit for a few reasons.  Mostly just to document something from this pandemic period in my own way.  Also, to express and share something about how it might be affecting others.   Originally, the inspiration was to highlight the effect of isolation on the elderly who are already within a stage of isolation, in age and living remotely with little connection and understanding as they approach the 'end' so to speak. I wanted  to connect this aspect of their isolation and the current situation affecting all of us now. However, things changed so that the plight of being creative and the general stress and difficulty of living with imposed isolation on a person or a family became the theme of my images. Being 'In Isolation' detracts from being able to create and live freely, as separation means a kind of social death and thwarts the flow of new ideas. In this Isolation, the outside world is filled with anxiety and stress and immediate danger.  Connecting with the world around us now is less possible, being distanced from it and 'In-isolation' is the new abnormal way to be.
PAVLOS ANDRONIKOS
Strange things happen when you've been in enforced isolation too long. You begin to feel trapped, like an animal in a cage rattling at the bars, frantic for freedom, desperate for company.  You stand at your open door looking out, and the house disappears around you. Just a door left, a door in a wall… and a cat hugging the wall fearful that it too may vanish like the sociable young wombat whose head and one paw keep appearing and disappearing up in the trees. And then again, sometimes you are overcome by stranger visions, a magic flying settee takes off past your window with a startled child on board. An exotic lizard parks itself in your living room calmly eyeing your camera bag.   You fear you are losing your mind… and you are.  A mist descends and the trees turn ghostly with whispers. You put out your cigarette…you've been alone too long.  For relief, you start up your computer and play with pictures…
andronikos.net
canarini.net
pavlos-andronikos.id.au
KALLIROE TSIATIS
Being imposed geographical isolation, in anticipation you freeze, you tremble in agony of losing your freedom, your life's supports, the other people—you get the bitter taste of the frailty of your existence. Everything seems to crumble, your status, your image. Then you discover how nice it is to comfort yourself to allow the birth of creative thinking to eventuate, a labour of excruciating pain but also the beauty of being yourself, weak and humble, true to your own free space and dimensions.
THEO PAPATHOMAS
Being in Isolation due to COVID-19, I've watched the seasons change through my window. I've attempted to capture petals flying and weeping on to the landscapes creating 'fireworks' in the sky. The petals dancing like musical notes create their own song and dance. Every petal represents a soul with its own personality and aura. Petals like a veil cover the sky creating beautiful rhythms and giving depth, painted with a pallet knife and brush to give texture and a 3D look. These paintings have a peaceful, tranquil quality about them, inviting the viewer to engage within the landscape. It's been difficult being in Isolation, not seeing others, but I've been creating a lot more.
Facebook.com/Theopapathomas
Instagram.com/theo.papathomas_art
TINA SIDERIS
As the world all took a collective breath and was forced inside, I took the opportunity during the restrictions to make the most of the extra time that fell in my lap. I saw this time as a blessing. I went straight into my art studio and let the work manifest itself while my brain caught up as the art was taking shape.  Fortunate for me the intimacy that I lost with my students became time I spent with my family. This time of pause, unexpectedly, provided for a stage of well-being, endless hours in the art studio and in these precious moments my daughters became my muses. This stretch of time allowed me to indulge in the exploration and to trial different materials and techniques. I enjoyed the interchange between materials and techniques, including, the egg tempera technique and the gilded glass technique of 'Verre Eglomise' that was predominant during the Renaissance period.  The subject matter 'for isolation' were my three daughters, who subconsciously surrendered themselves and became my muses, as we spent this most precious time together. Their serenity and stillness in a moment of contemplation and reflection, however fleeting, was enchanting.
TRACEY YANNOPOULOS
In The Approaching Storm, I am exploring the new world in which we find ourselves – the strange disharmony between humanity and nature – through the metaphor of a storm. Recent events have made many of us feel a pervading sense of isolation, an awareness of the constantly changing environment, and the impending threat of danger. We are now reminded that we are no match for Mother Nature, we wait out the impending storm together yet apart, fearing and hoping that it passes quickly, leaving minimal damage in its wake. The storm highlights every human being's vulnerability in the natural world—and our modern alienation from it. This painting depicts the coastal region in which I found myself at the start of this pandemic, as the perfect holiday suddenly became a nightmare, and this artwork reflects the sudden tumult of the whole world. When the realisation of how life would change and how quickly, I needed to convey how I felt in an expressive style rather than my usual realistic manner. The seascape, so familiar and comfortable until that day, became unpredictable and violent – hence the contrast of dark and light colours, of the beautiful in the midst of the challenging and foreboding. We should never underestimate the power and the untameable force of the natural world.
www.trace4art.com
Instagram.com/trace4art
FROM 'CONNECTION' TO 'ISOLATION'
In celebrating 10 years, the Antipodean Palette 2020 was to involve the collaboration of Indigenous and Greek-Australian artists in a unique exhibition titled 'CONNECTION'. 
Unfortunately, due to the impact of the COVID-19 virus and strict social gathering restrictions, this event was postponed.  Despite the setback, the GACL called upon its Greek Australian artists to 'connect' instead, in their first online exhibition, 'IN ISOLATION'. 
Maintaining and strengthening our social connections has never been more important than during the current coronavirus (COVID-19) pandemic, and as we all go online creating a 'new social norm', we must be sure these new habits include staying socially connected to others. 
As many of you know, the Antipodean Palette is not just an art exhibition, but rather, a 10-day reflection of culture through art, literature and performance.  Regretfully, due to this year's crisis, we have been unable to present the accompanying poetry reading afternoons. As a dedication to our Antipodean Palette writers and poets, we present a series of poems with a message of 'CONNECTION', recently written and presented on YouTube by the acclaimed and accomplished poet Angela Costi.
A Tribute to the Antipodean Palette Poetry Readings…Introducing Angela Costi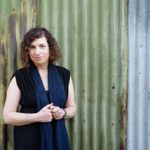 Artist's statement
Undoubtedly, 'connection' is being tested throughout the duration of 'lockdowns' and physical distancing. My poetry practice was underpinned by the Ancient Greek practice of performing before an audience – a reliance on the vital energy between skin and skin, breath and breath. Writing and then releasing a poem into the air is part of poetry making. And yes, one can read aloud a poem in isolation and throw it at the silent walls to ascertain its worth. Another way is to collaborate with a filmmaker, Faezeh Alavi, and musicians, VARDOS, on an explorative project, which entails taking my poems into a new sphere, engaging with images, sound and voice. 
These three poems were written in different stages of my life and all three seek to connect with aspects of ourselves. Making Lace travels back to our heritage to find the connection through a grandmother's skill. Kinaesthetic Grace establishes how a mother's hands transcend into the history of migrant women's contribution to Australian manufacture. And Shelter is about the connection we have with our environment – yes, we are confined to our homes of plastered walls, but we have our minds that can take us travelling. 
These films are an endeavour to connect with the members and audiences of GACL. A very special thankyou to Cathy Alexopoulos for her inspiration and support, and thank you to the City of Melbourne COVID-19 Arts Grants for funding these films.