The Greek-Australian Cultural League invites the community to attend an art show dedicated to our first generation Greek Australians. This is a rare opportunity to showcase the hidden talent within our senior community.  Opening night will be on Friday 29th August, 2014 at 6.00pm. The duration of the exhibition will be until Sunday 31st August, with opening hours from 10.00am-4.00pm, at 570 Victoria St. North Melbourne, 2nd floor.
Due to increased interest and numerous enquiries we received following the 'Antipodean Palette 2014', which showcased works by professional artists, the GACL has decided to organise this event for keen senior members in our community.
Many of our 1st generation Greek-Australians, grew up during the turmoils of war, and subsequent depression, later migrating to establish a new existence.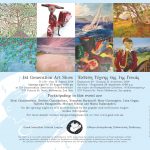 Hard working and committed to family upbringing in a new world, there was no time to express their creativity. Now, years later and as aged pensioners, they can enjoy time pursuing their inherent love for art.  It is for those who have a keen interest and partake in art as a hobby but have missed the opportunity to showcase their talent.
Participating in this event is Vakkina Panagiotidis, Michael Schizas, Mary Giavasoglou, Maria Tsalamandris, Xenophon Ηarlamoff, Neofιtοs Charalambous, Eleni Charalambous and Litsa Gogas.
On the opening night we will have the opportunity to be entertained by the popular and well known singer, Anthea Sidiropoulos singing some of her compositions and favourite songs.
For more details contact : infogaclm@gmail.comor visit:  gacl.com.au