E.E.A.M.A. in collaboration with the Greek-Australian Cultural League launched Jim Saltis' book "Blessings, Curses and Exorcisms", on Sunday 31st August, 2014, 3.00pm, at the Stars International reception centre, 1C Bell Street, Preston.
The book was presented by the well known and acclaimed Alexandrian poet and artist, Nikos Nomikos. The launch was hosted by the GACL's Secretary, Kathy Aronis
Talking about his book Jim Saltis said:
"I started writing my book "Blessings, curses and exorcisms" back in 1988, after my divorce. I bought a unit at Campsie and attempted to reorganise my life as a bachelor. My days were grey and the nights were endless. I was craving for some sleep but it refused to intervene and bring me some relief to my aching body and a break to my forever active brain. I named the Book "Mrs Stamata." which was the name of the mother.  It took many years to return to the skeletal draft, and complete it and renamed it "Blessings, curses and exorcisms."
The novel is a collection of experiences which I encountered, fictions that were created by my cerebral fantasies, the perpetual movement of my mind and my invisible soul. The family consisted of mother and father, two boys and five girls. Their lives were marred by the unrelenting continuous poverty and each person reacted in an uncoordinated manner.
All the people you will encounter in this story were real but they were unrelated and were bonded as a family by the author. However their life experiences were real.  Even the beautiful Flora (Madeline) who lived a daringly prodigal life by working as an aristocratic prostitute was lucky to meet, fall in love and married the very eligible Milton and experienced the immensity and tranquillity of true love.  Maria accepted the poverty as it was. She found happiness in her love for her lazy husband.   Dora encountered a very rich Egyptian who installed her in the best hotel of Alex the Cecil.
I compromised the saddening tragedy of Alecos and Sofia's love and gave the reader a compromise for a happy ending by the philanthropic action of her boss Leon.  Stamata died but she lives on as a ghost at the Greek section of the cemetery at Chatby awaiting the next Resurrection and to meet again with her son Alecos Dressed in faded black skirts with ungroomed white hair startles the passersby who do not know her h plight and some offer her monetary donations.
Now, all of us who were fortunate to be born in Egypt and more particular in the cosmopolitan Alexandria have dispersed at all corners of this hospitable planet. We travelled to new seas; we flew in skies and lands of places that we have learnt in Geography lessons. Most of us are well established in our new countries and we live carefree existences. Yet we are grateful that we were born in Egypt."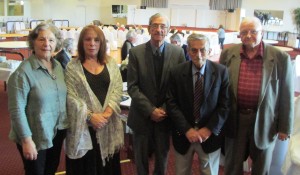 A few words about the book and the author:
Alexandria was the city where I was born, grew up and finally left in January 1949, without hatred or wickedness. One night, after my divorce in 1988, when sleep was minimal and agitated I decided to put some exploitation to my insomnia and started writing my first book which I titled as "Mrs Stamata".
Many years have logged since then, before finally I seriously went back to the skeletal book to turn it into a novel. The book includes my own empirical experiences and also fantasies that dwelled between my perpetually moving brain and my invisible soul.
The people you will encounter in this novel have lived their sojourn on this planet. Even the prodigal and very beautiful Flora (Madeline) who was lucky to experience the true live from Milton. I gave Sofia a happy ending after the untimely departure of her husband Alecos. Stamata died a long time ago but she carries on living as ghost at the Greek section of the cemetery at Chatby while waiting for the Second Coming of Jesus.
The book takes place in the Alexandrine district and it includes words from the different languages that the Europeans used including of course the Arabic. These days all of us who were born in the magical city of Alexandria, live dispersed on the hospitable planet. We have travelled on new seas and flew over skies and countries we have learned from our Geography books. We have comfortably settled and now enjoy leisurely existences in our old age. Yet are always grateful that we were born in Egypt.