The Artists of the 2019 Antipodean Pallete
1. Aphroditi Karalis
'The Matrix' is a work in progress which came from a need to explore alternative photographic processes and in turn explore my own moment in time.
My interest in the Bromoil print began when I attended the Hellenic Museum in 2018 to see an exhibition of work belonging to Nelly –a Turkish born Greek photographer who worked between Dresden, Athens and New York in the early 20th century at a time when Bromoils were being developed. Her beautiful Bromoil prints of dancers on the ancient stones of the Parthenon piqued my curiosity of this technique -a process where silver halides on black and white photographic prints are replaced with oil-based inks.
In my series, four out of the five images have gone through the process of being developed in the dark room, bleached, tanned and inked except for 'The Pneuma'. The photograph has been left without ink and remains ghostly green –this print is called the 'matrix' in the Bromoil process – it's from this point that the magic happens.
When I searched a little more about the meaning of the word matrix I found that the Greek word for 'matrix' is μήτρα translated as womb and symbolically, birth or rebirth if you like. And so from this ghostly green image once ink is applied no two images will ever look identical -the applicator, the texture, the ink, the colour, the paper, the temperature, the moisture will all play a role.
2. Angy Labiris
I am basically self-taught. My art history background has given me a love for the works of the old masters and their subject matter.
I paint mainly on board and sometimes on canvas. I have transitioned from painting with acrylics to painting in oils as I felt that acrylics had shortcomings. When I changed medium, I found that oil paint was too slippery and took much longer to dry. To create a rich, textured surface I developed an impasto technique using predominately sticks and the palette knife and to a lesser degree the brush. I have always loved landscape and like creating the illusion of being able to enter a picture and explore a rich, colourful, mysterious or sinister world. I am also fascinated by the ambiguous and abstract forms found in nature. I hope my pictures allow you to enter my world.
3.Barbara Kitallides
Born in Paphos, Cyprus. Barbara Kitallides is a multidisciplinary artist living working in Melbourne. Barbara's artwork is an investigation of life and place in the modern world. How her inner conscience interacts with her external surroundings. There is a constant push-pull effect of anarchy and control in her work. Engaging in an unspoken dialogue through colour, scale, form, materiality and the physical space. Through the depth of each colour we see symbolism. The candy pink representing the heart, oozing flesh and raw emotion. Jungle green reminiscent of military 'camouflage' pattern. The placement of pop colours against black acting as a vehicle to liberate and repress all at once.
Most recently Barbara has exhibited in Australia, London, Hong Kong. With a strong following and collectors throughout Europe, Asia, New Zealand, North America and Australia.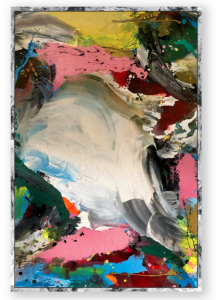 4. Christella Demetriou
In speaking about her own work, Christella states:
"In this vein I believe the most beautiful place is the one that continues to enchant us no matter how old or how dumb it may be as it awaits to be transformed by nature's forces: the colours of spring, mauve, green, golden yellow and light blue of summer, the rusty ochre of autumn, the thick fog and the deep red Erica bushes of winter. We create memory and desire simultaneously in the same way, when internalising an image of such a quality that can alter our perception. I do not wish to change this image, I do not wish to own it as it is already mine, like the other that I love, for the only reason being that the other is inside all the shades of colour, inside all these shadows and inside the seas I remember".
Below is an excerpt from a critique by Dr Dora Iliopoulou-Rogan (Art critic Officer des Arts et Lettres) after having observed Christella's work over many years…
"Independently of the artist's own statements on the subject matter and the aesthetics of her work, the viewer is actually taken by the fluency with which the artist unfolds a panorama of visual and emotional sensations each time, not only before their eyes but also within their own psychical world. Through conveying the very idea of a supreme energy with conviction, the artist transforms each of her works into a signal and receiver at the same time. A process instinctively activating our psychical world, making each work of the artist a very significant means of communication with the viewer."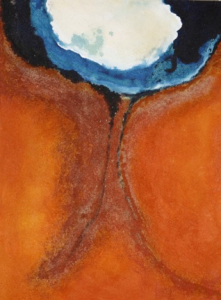 5. Efrossini Chaniotis
I am a Melbourne based artist creating colourful, intricately detailed paintings and sculptures with mythology and storytelling playing a major role in my work.
I started my journey in art school primarily in performance art where one year during enrolment I took on a surreal character and wore a pumpkin on my head; and let's just say that along with a fellow performance artist, we shocked, frustrated, intrigued and entertained everyone present. I went on to explore all art forms in that art school and loved the idea-friendly environment that suited my imagination. Miraculously, I then found myself across the seas in a prestigious European art school; one whose corridors were lined with the biggest collection of famous sculpture casts in the world, I spent most nights doing academic life drawing in a basement amphitheatre filled to capacity. This is just a glimpse of how amazing this place was. It gave me the chance to essentially learn how to draw and paint and cultivate more feeling and reverence towards art making. I'm so grateful for that experience.
Finally back in Australia, I emerged as a passionate and qualified art therapist doing psychotherapy art sessions in a psychiatric locked ward. That was another eye opener and made me keenly aware of the healing power of creative expression. Eventually I went back to just the art, but this time I had clarity of purpose and a desire to contribute by telling spirited stories through my art.
6. Helen Sartinas
– The Offering
This work is inspired by the Mexican ritual of the Ofrenda, ie. offering – an altar set up to welcome the spirits of loved ones. The ritual originates from the Aztec belief that the spirits roam and enter different realms in the afterlife. It coincides with the Day of the Dead festivities with celebrations and communication with the deceased at cemeteries.
Referring to these dualities of death in life, I am honouring the spirit of lost intentions of my familial past through an image that inspires contemplation, invoking forgiveness and hope.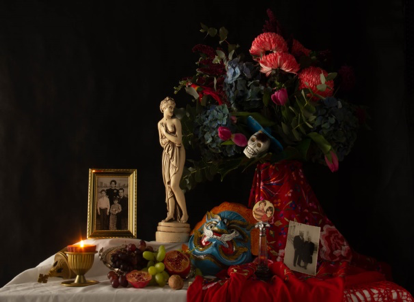 – Of What Remains
The sentiments continue with the familial reference removed, leaving then to contemplate on – what remains?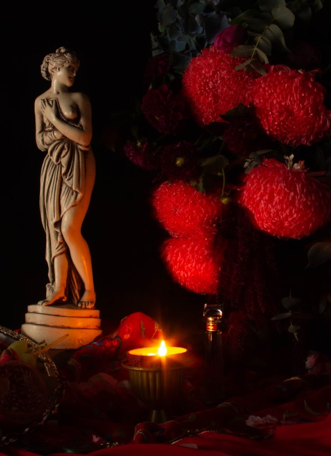 7. James Josephides
The artwork was originally sketched with grey lead pencil drawn over precisely with a black fine liner onto cartridge paper and then detailed with hatching. For the final pieces, I used graphite paper to position onto canvas. The original drawings were printed out on paper for placement. The paper is placed over the graphite paper and then traced. It is then inked in Black.
The layout was inspired from the Golden Ratio. A series of equations that flow in an infinite ascending and descending dimension. This equation is seen everywhere in the universe and relates to the unfolding of creation. We see the beauty and the connection through the circle of life. This resonates with me very deeply.
Each canvas has its own meaning that correlates to my own self-discovery. Manifesting a world in love, play and self-expression. To keep yourself grounded and balanced through the hard times and the good, to move forward along one's path to abundance. Maintaining a free spirit with support in partnership and relationship through optimistic encouragement, determination and leadership bringing mutual understanding.
They're placed in a manner to draw you closer to a personal message. That message starts revealing the inner world to the surface of one's reality. Only you can decide what this message means to you. Creation can be a catalyst from within. The reasons may not be the same as the creator's, rather it can spark the differences of various insights and ideas within others. This encourages connection, conversation and the understanding of each other.
James Josephides is a Melbourne based Greek-Australian artist mainly working in the field of Design and Animation and comes from a background of everyday drawing since childhood. As arts was with James throughout his life, he discovered a certain passion with drawing and animation. From completing a Bachelor of Digital Media at Swinburne University, he now has a diverse palette of self-taught traditional art and the world of Digital Media. Working with lots of digital platforms, James tapped into the world of Motion Graphics and has allowed him to transform his artwork into moving visuals. Gaining the opportunity to work with other visual artists, James was able to animate their artwork and further tap into his creativity. His main medium for traditional artwork is through the use of pencil and fine liner as they go well together through the technique of hatching. James articulates that creating through self-expression, is one way to emphasise inner emotional values, experiences and feelings through conceptual ideas. In this, it can enable others to expand their perceptions and perspectives through a visual. James has a sense of intuitive flow in his artwork. As he initiates the stages of sketching, he proceeds with thorough and precise detail to produce the final outcome.
His artwork is a demonstration to make others feel what the image is telling them through a sense of movement, form and expression. This is determined from their own ideas and what it may bring out in them.
8. James Pasakos
Pasakos reflects scenes of the Melbourne Docklands. It holds many experiences of my childhood, culture, home and the formation of me, as artist. The work is part of an ongoing personal journey to endeavor to understand belonging and identity, to form my own connection between the two worlds of my Australian and Greek heritage.
I often visit the Melbourne Docklands to collect my thoughts and to view the maritime landscape, to seek my own iconography, narrative, purpose and understanding of sense of place. The Docklands is an historical area with much significance to the Australian contemporary landscape, which came into prominence during the Victorian Gold rush of the 1850s as a very busy Melbourne shipping hub.
Part of an ongoing series portraying the Docklands, is to continue the narrative of travel and discovery. During my overseas travels through Europe, Asia etc. I often consider the valuable migrant stories of travel. My work reflects these powerful experiences as they act as reminders of the fragility of our sense of self in the world, and the way in which that sense of identity may develop and spawn new cultural identities that change or shape values of other cultural frameworks.
BIO
James Pasakos grew up in Melbourne and now lives in Ballarat, a rural Victorian city. He studied Visual Arts at Monash University, Melbourne.
He has a Bachelor of Visual Arts Degree, a Post Graduate Diploma in Printmaking and a Masters of Fine Art majoring in Printmaking & Drawing.
Since 1991 Pasakos has regularly exhibited in both solo and group exhibitions throughout Australia and internationally. His works are represented in public, private and university collections.
Pasakos is a Visual Arts Lecturer at Federation University Australia teaching Printmaking, Drawing and Digital Art. He is the founder of Goldfields Printmakers (http://www.goldfieldsprintmakers.com) www.jamespasakos.com
9. Kyriaki Teo
Inspired by Teo's birthplace, Kyriaki has created a bronze table top sculpture that captures Australia's unique native flora, fauna, landscapes and roots. 'Australiana' is strongly influenced by the shapes and textures found in nature more specifically on the exploration of the individuality of each native seedpod and gumnut.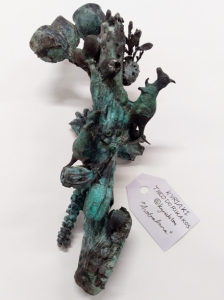 10. Luke Spiliopoulos
Born and raised in Melbourne, I have been drawing and painting since I was a small child and decided to study graphic design when out of school. I quickly found that I was just trying to incorporate art into design at every turn and that the field was just not for me. So I choose to dive deep into the realm of painting and focused on improving my technique and expression. Largely self-taught I hope to continue my craft and make a career of it. My inspiration and a lot of my subject matter centers around the figure and moments that describe us as humans.
11. Maritsa Micos
I have taken the viewer on a journey through the many facets of a storm.
I am interested in the composition of a storm and the inevitable metamorphosis that takes place during a storm occurrence. My intention was to recreate its energy and personality through abstract gestures and marks within a contemporary mixed media palette.
These pieces are influenced by the many types of storm experiences. I believe to create one must embark on a journey of deconstruction or even destruction in order to seek the soul of the artwork. The storm acts as a catalyst for this process.
12. Masonik
Masonik is an Australian multi-disciplinary arts collective, who have performed and nationally and internationally since 2006. Masonik's immersive experience creates electronica / jazz-fusion / neo-classical and soundscapes layered with video projections. As Visual Artists, Masonik generates artworks based in graphic design, film, photography, sculpture, installation & theatre.
Basil Psanoudakis – Bass / Turntables / Laptop / Video / Photography / Design Wheldon Thornley- Keyboards / Video / Photography / Design
Tony Monaco – Vj / Video / Design
Patrick Bindon – Script Writer / Design
Night-scape and Sky-scape are two photographic / sculptural / video works that were created in Athens. Sky- scape depicts the sky of Athens mountains intersect with apartment buildings and antennas. Night-scape depicts Athens at ground level paved streets and ancient walls covered in graffiti. From each photographic representation hangs a hand-made casing containing the video form of each piece. Each video also created in Athens. Sky-scape on a rooftop, Night-scape on the ground.
Night-scape and Sky-scape are two works from Masonik's larger art installation titled Altar'd Lament. This project contains works inspired by the Greek musical movement of Rembetiko and the events of 1922 in the city of Smyrna.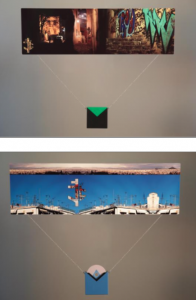 masonik.org
altardlament.masonik.org
13. Menio Kottakis
Imagery has always played a large part in my life.
From watching TV to studying films and advertising, to dreams and imagination, and to paintings on display at a gallery, I've always felt at home when confronted by imagery. Learning to use a camera seemed a natural step for me to take. I wanted to make imagery that was inspiring to me.
In this exhibition, of first learning how to use the camera semi-competently and through editing and printing, I hope to show something of what has influenced and inspired me to try to make images from my perspective.
14. Rolando Garay-Matziaris
Rolando Dimitrios Garay-Matziaris is a Greek-Chilean-Australian visual artist based in Melbourne, Australia. His work is informed by his cross-cultural identity, experiences, and reflections on the Australian identity. His practice incorporates digital collage, drawing and commercial printing techniques in order to explore cultural identities, hybridity, and value systems found within the context of multicultural Australia.
– UNTITLΣΔ Assemblage 1 (collage, pen, pencil on paper)
– UNTITLΣΔ Assemblage 2 (collage, pen, pencil on paper)
15. Sofronis Michaelides
Born in Limassol, Cyprus.
Growing up, I had no interest in making jewellery even though my father was a gold-smith. It was some years later that my interest was aroused when I developed a passion for the ancient Greek art.
In the late 70's, I grew sugar-cane in Queensland. Even though it was busy throughout the cane season, there was a lot of time to spare during the 'slack season'.
I mostly enjoy sculpturing with wax, working with gold and
silver, mould making and centrifugal casting.
Heritage Jewelry (assorted designs)