Art Exhibition 'Antipodean Palette' 2014
As coordinators of "Antipodean Palette" 2014, we are happy to be involved in the organisation and promotion of this worthwhile event.   In line with the aims and objectives of the Cultural League, 12 practicing artists from various disciplines have been invited to participate in this exhibition.
This year we introduce the following artists and thank them for participating to make this year's event yet another success: Angy Labiris, Anne Sampsonidis-Warren, Christos Avramoudas, Costa Athanassiou, Effie  Mandalos,  James  Raftopoulos, Mary Raphael,  Sophie Kagadis, Soula Mantalvanos, Thalia Andrews, Tina Sideris and Tony Pierrakos.
We also thank our musical artists "Polyxeni" for their performance during the launch, as well as our special guest speakers and kind supporters.
The GACL continually seeks to promote artists within our community.  Practicing artists are invited to submit applications for next year's 'Antipodean Palette' by downloading the entry form below or emailing the coordinators at: antipodeanpalette@gmail.com
Vasy Petros & Thalia Andrews
"Antipodean Palette" 2014 Coordinators
If you are interested in participating in a future "Antipodean Palette" exhibition you can download the Entry form HERE
Please read the Terms and Conditions 
HERE
No image or documentation displayed on this page may be reproduced, communicated or copied (other than for the purposes of research or study; criticism or review, or reporting the news) without the Greek-Australian Cultural League's permission. Use and referral is allowed for the purposes of research or study so long as full and proper attribution is given. Unauthorised commercial publication or reproduction of any part of this page is specifically prohibited. Contravention is an infringement of the Australian Copyright Act 1968.
'Antipodean Palette' 2014 Artists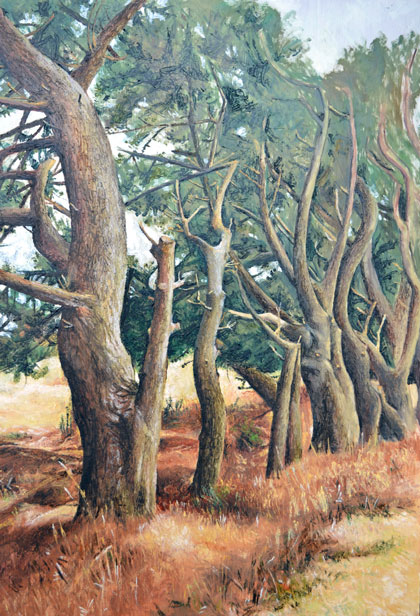 Angy Labiris
Graduated with an Arts Degree (Honours) in 1976 majoring in Art History. Enrolled in Fine Arts RMIT1973. Exhibited at Bridges Gallery in the early 1990, Alphington Open Studios, Cotham Gallery 101 in 2013 and entered a self-portrait for the Archibald Prize in 2012. Email: anfastar@gmail.com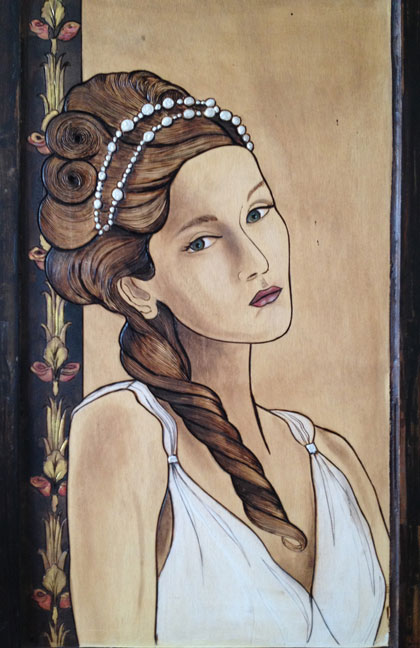 Tina Sideris
Sideris abandons herself in the mystical and fulfilling art form of pyrography. Pyrography is the ancient Greek word 'to write with fire'. This art form has been used since the ancient times. It is an eternal and everlasting art form. Her journey through this technique has led her to explore, experiment and evolve. Celebrating a simple, decorative style, the warmth and inner peace in Sideris's art, directs us to seek our own inner peace and to indulge the inner-self. Her art is purely decorative, serene and sensual. Email: gencadesign@bigpond.com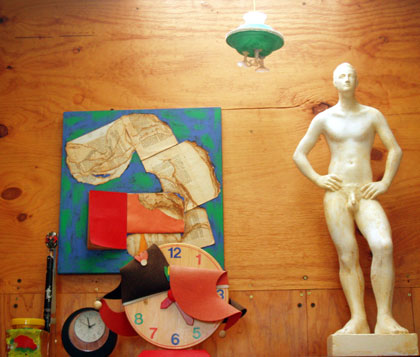 Christos Avramoudas
I completed a degree in Sculpture/Visual Arts at the Aristotle University of Thessaloniki in 1996. My work has been heavily influenced by Dadaism, Conceptual Art, Fluxus, and Arte Povera, amongst other movements and styles. Conceptual Art challenges the traditional notion of the definition of art. The basic argument is that, although art ought to fulfil a human need, this need is not aesthetic pleasure but the way it enables knowledge to be communicated. The domain of artistic value extends beyond the domain of the aesthetic value. Cognitive value is the value that an art work possesses in virtue of its being able, in some way, to convey or yield philosophical ideas and knowledge to those who engage with it. Moreover, the medium isn't the message; the medium gets in the way of the message. Email: avram-dounis@bigpond.com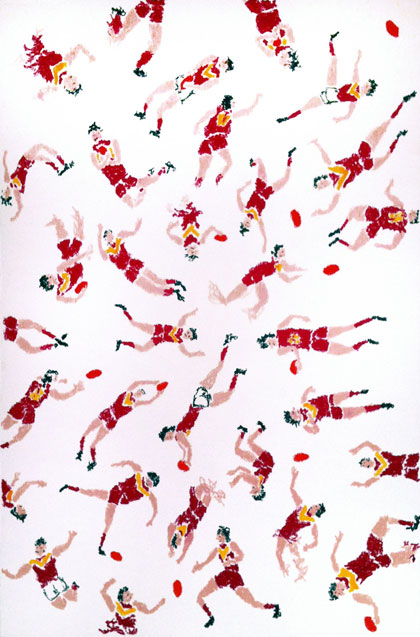 James Raftopoulos
The Illustrated Career Highlights of Roger Merrett (at Brisbane). The 1990s were a good time for Australian Rules Football. It was a simpler time, players were celebrated for acts of courage and skill that seem pedestrian by today's lofty standards. This piece celebrates some of 90s hero Roger Merrett's greatest moments in his time at the Brisbane Bears: That time when he flailed his arms about a bit, that time he jumped, that spectacular moment when he had to lie down for a second after going hard for the ball. I felt it was necessary to immortalise these often overlooked highlights with this piece. Website:  jamesraftopoulos.com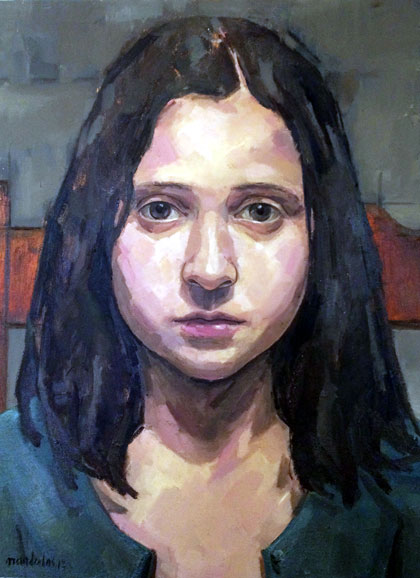 Effie Mandalos
A practicing professional artist for over 15 years, completing a Fine Arts Degree at Monash University. My main focus is to capture and express a mood through tone and colour, and to play with the tension between space and shape. I look to work with the subtleties and variations in colour and tonal values – the way objects, light, shape and planes relate to one another. I prefer to paint on a small scale as I'm especially taken by the quiet intimacy that this creates between the viewer and the painting – seeking perhaps to have a conversation rather than to make a statement. Email: info@ringsroadartstudio.com.au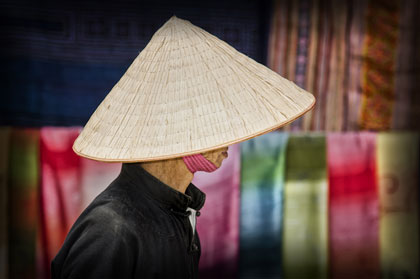 Tony Pierrakos
Bachelor of Arts in Illustrative Photography RMIT 1996. Little did I know at the time, as a child running around the laneways and streets of Brunswick and Carlton that some 30 years later I would be walking the same lanes and streets, this time with camera at hand. The years after graduating from RMIT were filled with European and South American travel. Through luck or fate I ended up opening a photography stall in 2001 at the Queen Victoria Market, so intone photography was created with photographic artwork of my favourite subject matter, Melbourne urban landscapes. Email: intonephotography.com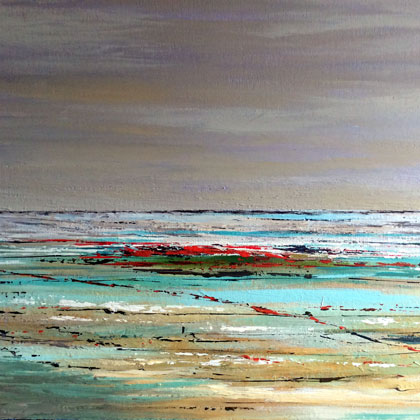 Mary Raphael
My style expresses peace, energy and tranquillity, which flows through me when confronted by the magnificence of our landscape. When I have my brush in hand, and my palette full of vibrant blobs of colour, I anticipate the result with so much excitement. With a variety of techniques, I add layer after layer, stroke after stroke, and revive the mystique, enormity and uniqueness of our land. Email: maryraphael12@gmail.com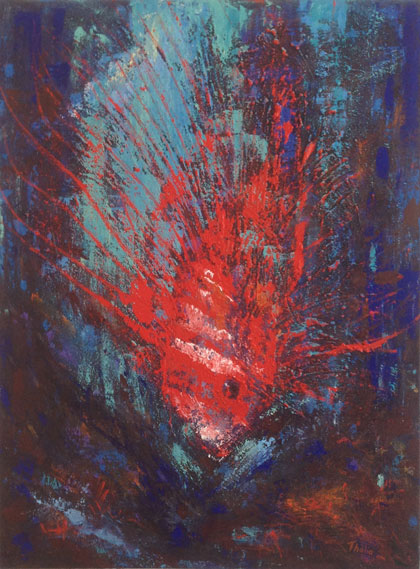 Thalia Andrews
A graduate of The Victorian College Of The Arts. Applying paint to my brush and canvas expresses my inner wonder and appreciation of the beauty of the world around us. The colours, tones, textures and strokes which I apply reflect the depth and meaning of each painting. My paintings are a platform in releasing my inner self and deeper thoughts. They bring me joy and happiness and a desire to create meaningful and thought-provoking art work. Website: http://thaliaandrews.com.au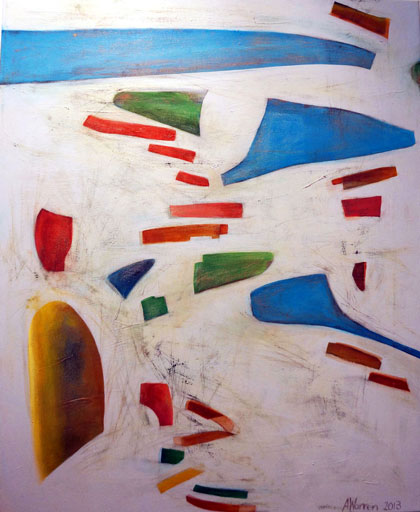 Anne Sampsonidis-Warren
My art practice consists of several different media including digital imaging, drawing, collage, assemblage and painting. I exhibit regularly, maintain a blog, participate in the annual Alphington Open Studio weekend and teach workshops from my studio. I make detailed representational images as well as minimalist abstract images. I like to change media and or mix media within an artwork whereby my work is sometimes described as hybrid or surreal. I have a Bachelor Degree in Fine Art Drawing and most recently exhibited small detailed drawings using a finely sharpened black oil pencil. Website: annewarren.wordpress.com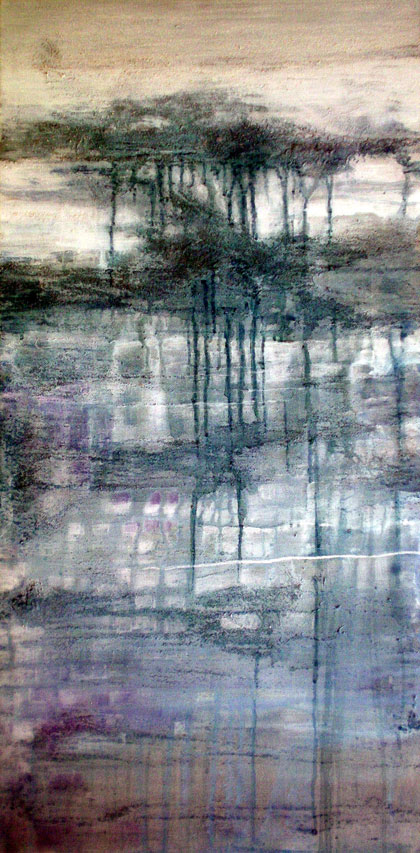 Sophie Giannakis-Kagadis
An artist specializing in the preservation of art and the restoration of ancient and contemporary monuments under the guidance of The Greek Ministry of Culture. Sophie's expertise includes art restoration,the preservation and protection of cultural heritage, paintings, sculpture, Byzantine Art, and both ancient and contemporary monuments. She holds a Diploma of Arts from the Hellenic Center of Fine and Applied Arts. She is the executive director of the Ionian Center for Arts & Culture on the island of Kefalonia, Greece, welcoming all the artists from the diaspora. Email: ionianartscenter@gmail.com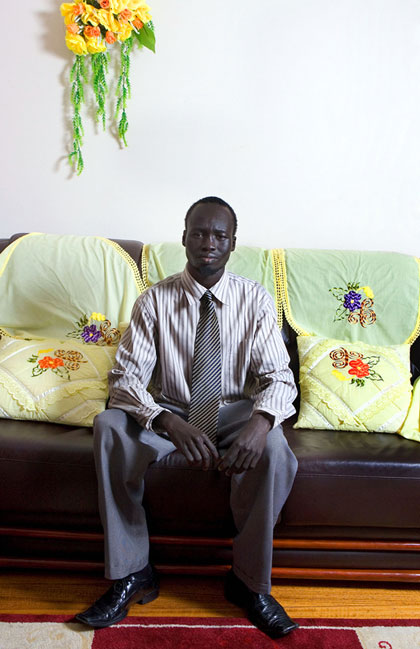 Costa Athanassiou
As a professional community photographer and filmmaker I have been working on an extensive number of community projects. The four portraits, which are shown in this exhibition, were part of a community arts project titled 'Face to Face'. Fourteen Springvale residents took part in the Project, which was initiated by the Greater Dandenong City Council in 2010. 'Face-to-Face' brings together people from diverse backgrounds to tell their stories about Springvale. It aims to capture everyday life in the community and to help people understand the different cultural backgrounds of the people who live and work in Springvale. Website: costascreativemedia.com.au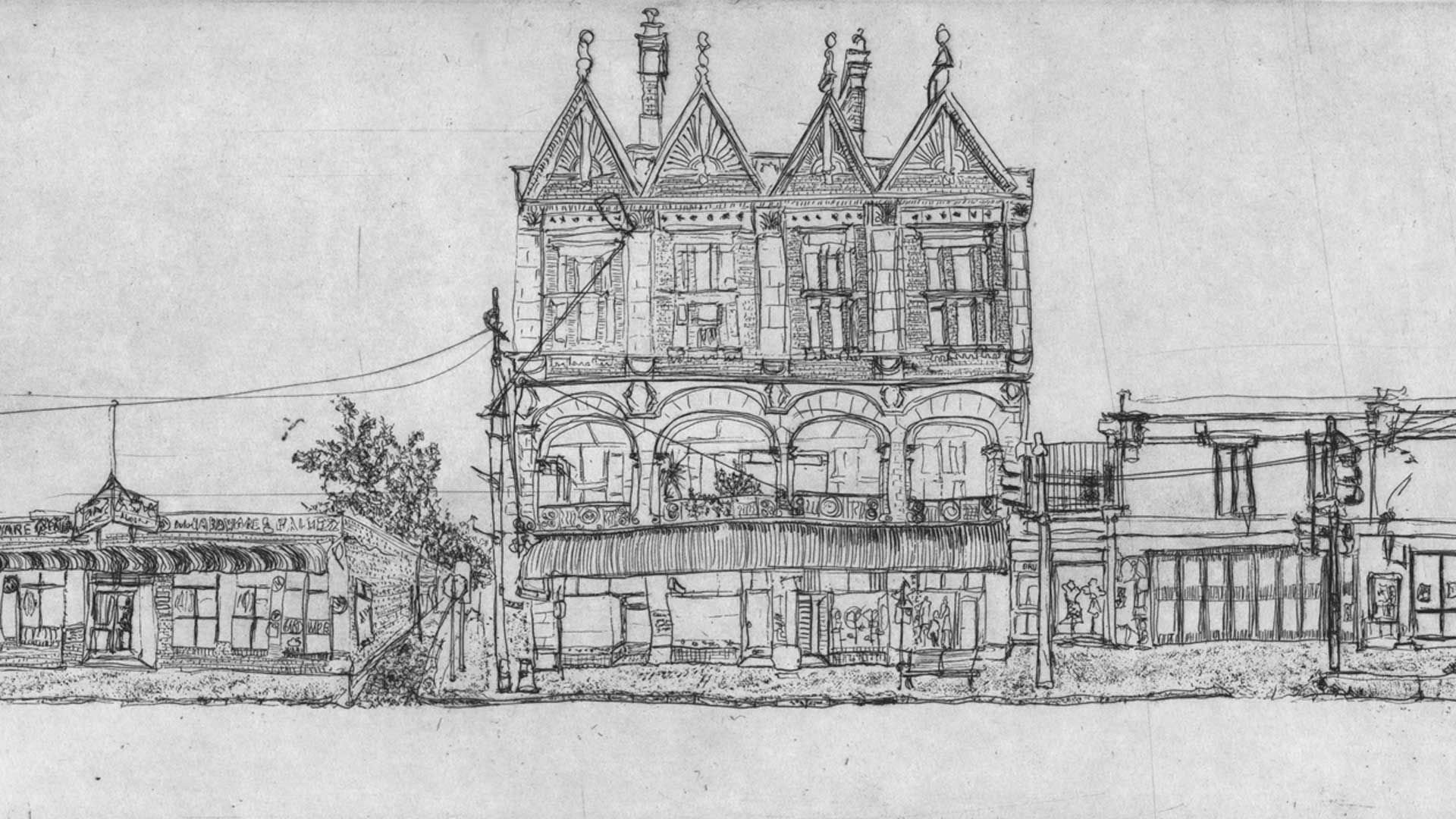 Soula Mantalvanos
Confined to a very small geographic radius by a chronic pain issue, my surrounding community became a vital hold on life. I felt I had to document this phase, not only for heritage sake but also to make reference to the path I was able to walk during this difficult time. Over the past 6.5 years my community has played a crucial role in my coping with a chronic pain issue. Gertrude Street is not only a local strip for me, it has been my connection to the world. With huge thanks to master printer Andrew Gunnell for helping me produce the work. Website: soula.com.au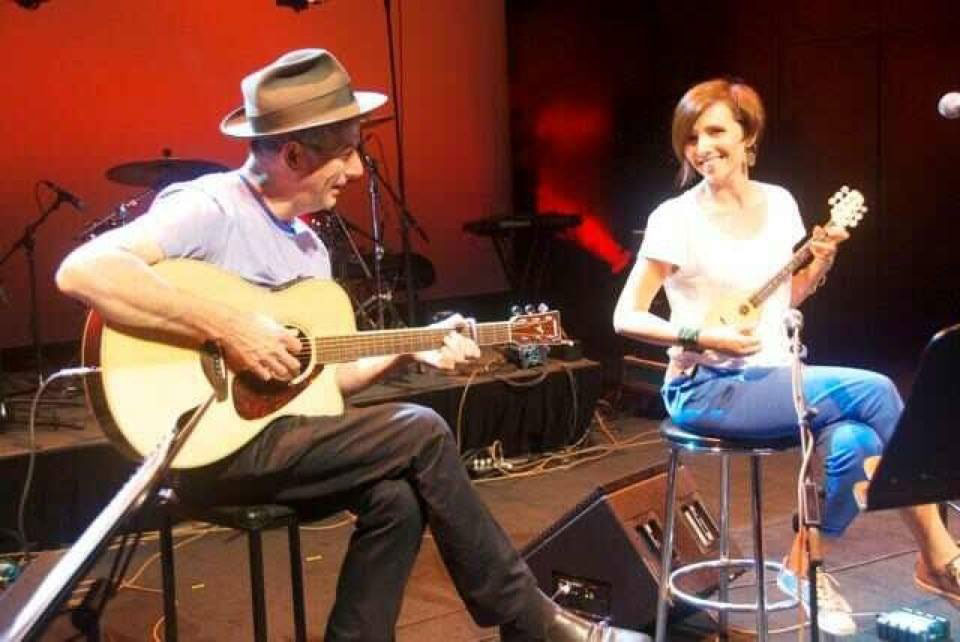 "Antipodean Palette" 2014 Musicians
"PolyXeni" are Melbourne based musicians Jenny Theologidis and Wayne Simmons. They play Greek acoustic music styles including Rebetika, Smyrnaika, Palia Laika and Contemporary working regularly as a duo playing in their own unique unplugged style and in collaboration with well known Melbourne based musicians.  PolyXeni are currently working on finalizing their first duo CD. You can find them playing on their Youtube channel 'PolyXeni Melbourne' and live at Tsindos Tavern (197 Lonsdale St, Melbourne, ph: 96633194), every Monday & Wednesday from 7:30pm.
Contact PolyXeni at: polyxenimelb@hotmail.com.
Ph: 0438437968/0403259521