Efrossini Chaniotis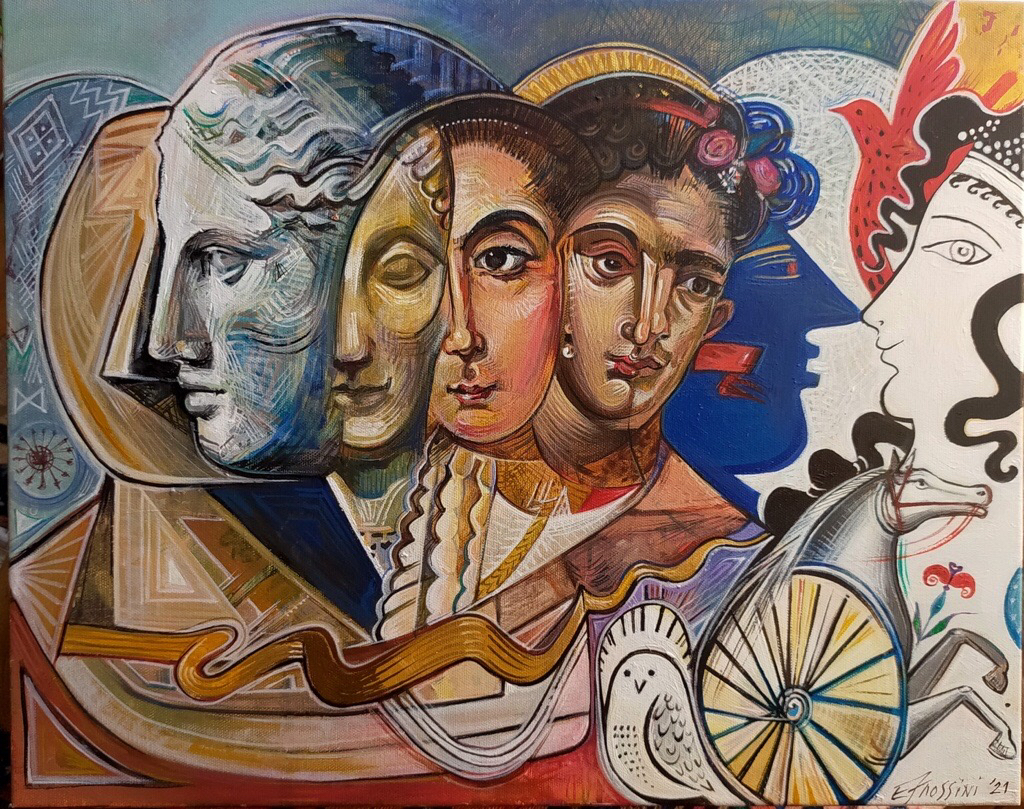 Ena Mati – ONE-EYE
Medium: Acrylic on canvas
Size: 41 x 51cm
Price: $1,250.00
Mobile: 0438 502 908
Website: www.efrossiniart.com
Website: www.moderniconart.com
Instagram: https://www.instagram.com/efrossiniart/
Artist Statement

ONE EYE is my gesture of respect for the legacy left by Greece to the history of art. I also created it to demonstrate the golden thread that remained throughout the changes that took place over time.
METAMORPHOSIS when applied to art can be argued- is not lineal. Great work, insights, developments are not guaranteed into the future. Yes we are handed the baton', but if we do not look back, marvel, ponder and learn from the ones who started the race we are poorer for it I think.
From the earliest expressions of the human figure, Greek artists have 'passed the baton' on to the next generation of artists. 
As I painted it I recalled what I had learnt about painters from the pinnacle classical period of ancient Greece. Artefacts were all lost apart from written accounts by their peers. The only visual examples were of what survived in later centuries in the form of frescoes, and by the work of Greek painters in Roman times, who were the descendants from those traditions. 
Through lines, shapes and particularly the constant witness: the benevolent 'EYE', this painting represents some the great movements in art and cultural milestones in Greece's history. For this artwork I chose : CYCLADIC, CLASSICAL, ARCHAIC, FAYOUM (Roman-Egyptian) BYZANTINE (Cretan school) , TSAROUHI, FASSIANOS (Both great modern Greek artists who studied at the Athens School of Art and left their mark on me ) AND MINOAN CULTURE.
I have also included my own stylised black and white owl in the painting ,which is a copy from an old artwork, to indicate my personal recognition and respect for the impact and vitality that the artistic heritage of my homeland has on my work.
Artist Profile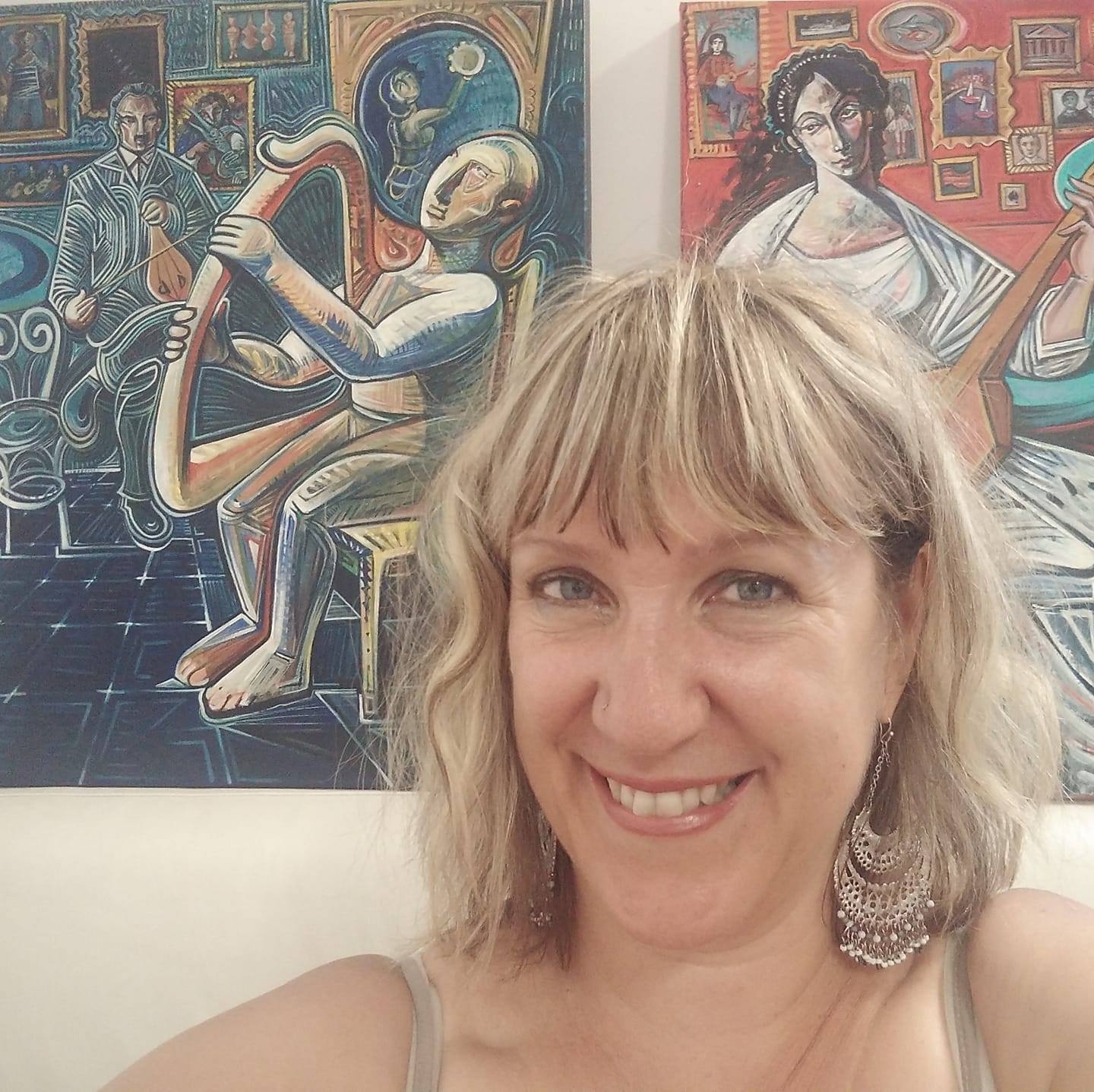 Efrossini Chaniotis is a Greek-Australian sculptor, painter and storyteller whose unique style uses striking color and composition, with influences from sacred Byzantine iconography, folk art from diverse cultures, and bold modern art.
Her themes are inspired by myth, history, cultural heritage and the every-day, using imagination to tell stories of the human spirit.
Efrossini's arts training includes international studies at the South Australian School of Art, the Madrid School of Fine Art, and the Athens School of Fine Art, as well as a master degree in Art Therapy.
She regularly exhibits in group and solo shows and her paintings and sculptures are held in private collections throughout the world. Efrossini has created murals and street art for community groups, council projects, private, and commercial clients.
In 2019 Efrossini won the Gippsland Sculpture Prize with her unique brand of painted, mix media, figures which admirers have compared to Mirka Mora's soft sculptures. 
As a contributor to the thriving Melbourne street art scene Efrossini's work was also included in the book: 'Burn City' by Lou Chamberlain, showcasing local Melbourne Street Art.
The artist currently works from her Little Mykonos Studio in Melbourne.