Art Exhibition 'Antipodean Palette' 2016
August 16 – 23 | Steps Gallery
62 Lygon Street, CarltonFor the sixth consecutive year, the Greek-Australian Cultural League is organising the Antipodean Palette art exhibition at Steps Gallery. Since its inception in 2011, this event came to represent the GACL's commitment to the visual arts. Each year, this exhibition showcases and promotes the art of Greek Australian artists. The Antipodean Palette is one of several activities that the GACL organises each year however it is the only one that is specific to the visual arts. It is very satisfying to see people of all ages and from all walks of life, professionals, academics, university graduates, second and third generation Greek Australians, being attracted to participate or simply to come and view this event.
The call for entries which was made early in 2016 resulted in many more applications from people involved in the visual arts than could possibly be accommodated in one exhibition. This indicates a growing interest in this event. It also indicates to us that a much bigger section of the community is involved in the visual arts than we originally anticipated. The response was indeed very encouraging. It was then the job of the organising committee to sift through the applications and make a final selection, a selection that best represents the talent as well as the variety of arts that is practiced in our community at the present time. For those artists who couldn't be included in this year's exhibition, we would like to extend a word of encouragement to continue with their creative work and to try again in the future for inclusion in this event.
For this year, participating artists are: Con Constantinou, Helene Athanasiadis, Angy Labiris, Tina Sideris, Sophia Xeros-Constantinides, Stella Tsirka, Anne Warren, Kelly Varveropoulos, Nicholas Katris, Nikos Siouzios, and a group of four artists from WA known as the Masonik Art Collective.
We invite you to join us at the opening ceremony which will commence at 6.30 pm on Tuesday August 16. The exhibition will be launched by Jill Morgan AM and CEO of Multicultural Arts Victoria. MC for the opening ceremony will be Connie Gregory, member of the executive committee of GACL and also member of the organising committee of Antipodean Palette. The exhibition will continue until August 23. The week-long exhibition will also include an afternoon of bi-lingual poetry readings on Saturday 21st August at 3pm.
The GACL continually seeks to promote artists through this increasingly popular annual event. Practicing artists are invited to submit applications for next year's "Antipodean Palette". For entry details, please check this website or contact the co-ordinator at antipodeanpalette@gmail.com.
Frixos Ioannides
Coordinator – Antipodean Pallete 2016
If you are interested in participating in a future "Antipodean Palette" exhibition you can download the Entry form 
HERE
Please read the Terms and Conditions 
HERE
No image or documentation displayed on this page may be reproduced, communicated or copied (other than for the purposes of research or study; criticism or review, or reporting the news) without the Greek-Australian Cultural League's permission. Use and referral is allowed for the purposes of research or study so long as full and proper attribution is given. Unauthorised commercial publication or reproduction of any part of this page is specifically prohibited. Contravention is an infringement of the Australian Copyright Act 1968.
'Antipodean Palette' 2016 Artists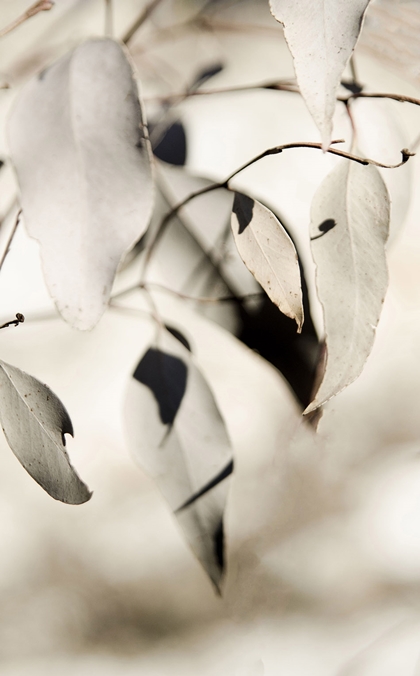 Helene Athanasiadis
Efkalyptos is a collection of botanical photographic and mixed media studies highlighting the timeless elements of the eucalyptus tree.
Living in the historic gold rush town of Castlemaine I am surrounded by native Victorian bushlands. I take frequent walks on the same bush track near my home. Each time, however, I see something new: the stillness of a gum tree on a warm afternoon, the muted tone of a dry eucalyptus leaf at sunrise, the defined incised texture of branches at dawn. For this body of work, I have presented two photographic stills and four mixed media works. In each medium I have utilized earthen textures and tones combining organic stills and landscape imagery to form improvised abstracts. In my mixed work, the images are fluidly rendered with pastel, pencil and acrylic. By drawing and painting back into it, I enhance and transform the original composition.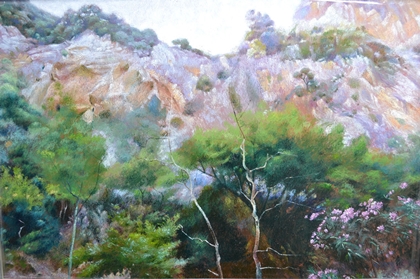 Angy Labiris
As long as I can remember, people have claimed that I am able to draw. So from a very young age I have had a desire to paint pictures. So I drew and painted whenever I had the time. As I got older I took up Art in high school. I went on to university and studied Art History. As the course didn't include practical work, I attended life drawing classes at RMIT. After completing an Arts degree, to be able to earn a living, I went on to become a librarian and spent many years in the public library system. I continued to paint with acrylics on canvas, board and on other surfaces. I had an exhibition in the nineties in a gallery on Bridge Road, Richmond. As you might conclude, I am basically self-taught. My Art History background has given me a love of painting, the works of the old masters and their subject matter.
I paint mainly on board as well as on canvas. I have also transitioned to oils as I felt that acrylic had shortcomings. When I changed medium, I realised that oil paint was too slippery and took much longer to dry. To create a rich, textured surface I developed an impasto technique using predominately sticks and the palette knife, and to a lesser degree the brush. I believe that the painter has to create a "successful" picture – by any means. I have always loved landscape and want to create the illusion of being able to enter a picture and explore a happy, mysterious or sinister world. I am also fascinated by the ambiguous and abstract forms found in nature. I hope my landscapes give the viewer an opportunity to enter into a fantasy world.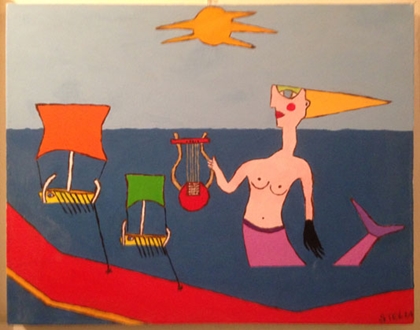 Stella Tsirka
Stella was born in the old city of Athens. From a young age she showed talent in music and art. After completing high school education she attended music lessons at the University of Athens. She is a self-taught artist and has been practicing her painting for more than 20 years. Her technique, although simple in execution, is quite effective in expressing feelings and highly charged emotional states. In many of her compositions one can see surreal elements as if coming straight from her subconscious to dominate an otherwise quite logical landscape. There seems to be an on-going struggle between logic and the subconscious, between what one expects to see and what is actually portrayed. Stella approaches her work with a high degree of technical control and with confidence about what and how to represent her subject matter. Stella's is a very personal style, derived from her own life experiences and her desire to express feelings which lie too deep for words. In landscape and portrait painting Stella found the perfect medium of artistic expression.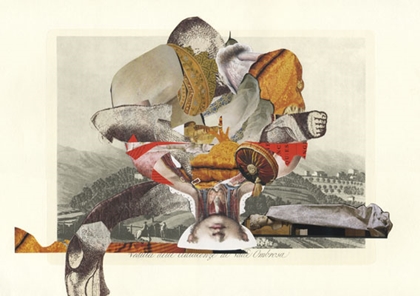 Sophia Xeros-Constantinides
In my artwork I use collage to explore the female form, and to question culture, relationships and what it is to be human.  Through a visual play with imagery and ideas, my art-work disrupts expectations, recalls surrealist forces and beckons the viewer to follow on a journey of discovery.  In the Natura Morta (2011-16) works, from the series Earthly Delights, I have extended my visual exploration of the world around me with an intergenerational and cross-cultural collage 'play'. Referencing the genre of still life (natura morta), I am proposing alternative pictorial journeys for the viewer, seen through the lens of my own gender and culture – that of a twenty-first century feminist Australian artist and clinician, with a Mediterranean (Smyrnian/Greek) heritage. The series was conceived in 2011, whilst on a trip to Italy with fellow artists where I happened upon a second-hand set of reproduction prints depicting antique views of Tuscany, Viaggio Pittorico della Toscana. I have collaged into the found printed imagery, incorporating some of my own etching print-work as collage fragments, and imagery from magazines and reproduction medical texts. The image, as a product of my imagination, has then been digitally photographed, enlarged and printed on canvas for exhibition.
Con Constantinou
My parents are from Cyprus, they met and married in Australia and I was born in Melbourne in1981. I am a trained chiropractor but have been creating artwork continually since I was a child.  Art is part of my identity, as is being a Greek Australian. For me, art is an expression which comes from introspection and self exploration. It is brought to life with my hands and communicates to the public (and to myself), a permanent record of my thoughts and influences. My use of media is varied and experimental, from sketches, to watercolour, glass, aerosol and pastel. I always try new media and see where they can take me.  My themes reflect simple human nature. I am self taught and in this exhibit for Antipodean Palette, I have chosen two works from my large and varied collection. My concept with this sample is that being Greek is a combination of history, heritage, self reflection, strength and passion. Here we see the juxtaposition of two styles and two forms: masculine, feminine, historic and rigid, dreamlike and mysterious. Identity can be a mix which includes history and mythology, partly fixed and partly changing.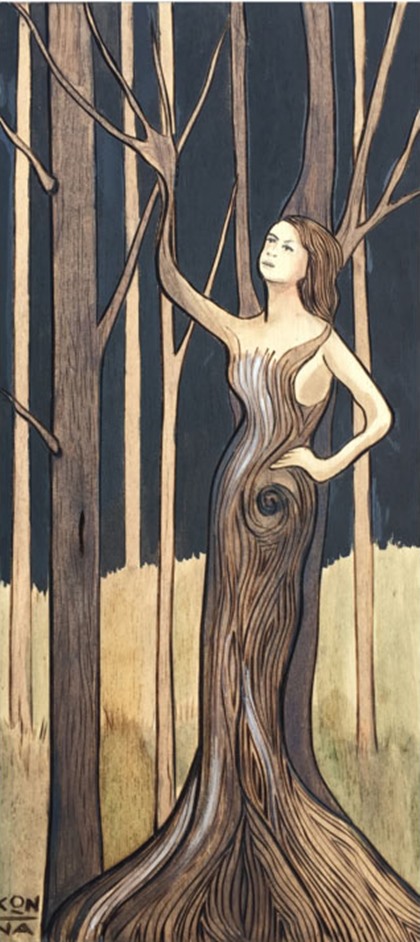 Konstantina (Tina) Sideris
Over the last decade, Konstantina has enjoyed exploring the medium of pyrography – a technique that within itself embodies change as organic material (wood) transforms into an object of adornment. Through this technique an extraordinary quest of light and shadow begins as the design evolves through the natural knots and veins of the wood. The transformation of the wood into a unique work of art never ceases to delight her. This particular series is a moment of metamorphosis. The nymphs, natures spirits, are in the woods and transform into trees. An apt transition as the wood material used echoes this metamorphosis. She draws on the power and allure of the mystical world, in particular the feminine and sees these elements in all women today. Contemporary women need time for their inner selves, to revitalise and return to nature. Her works ask you to reflect and meditate with her subjects. It offers the viewer a special insight into the reflective moments that women share, a bond that goes far beyond culture and deep into the instinctive nature of the female psyche. Celebrating a simple, decorative style, the warmth and inner peace in Sideris's art, directs us to seek our own inner peace and to indulge the inner-self. The art is purely decorative, serene and sensual.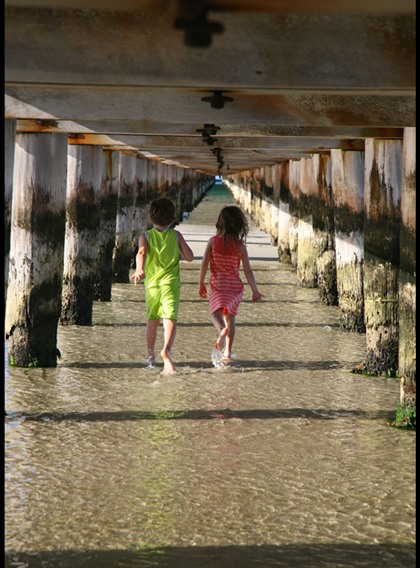 Kelly Varveropoulou
I am a photographer and hold formal qualifications in photography having graduated from the Leica Academy in Greece.
Following my studies, I worked at the photo studio Stefanos Kalamaras for three years doing mainly children's photography. I also worked as freelance photographer for a newspaper covering public events, music concerts etc. For about seven years I ran my own studio under the name "Photo Ocean Digital Studio" in Athens. I came with my family to Melbourne two years ago. Here in Melbourne I started working for myself as a portrait photographer. I specialise in family portraits, and have a particular interest in children's photography.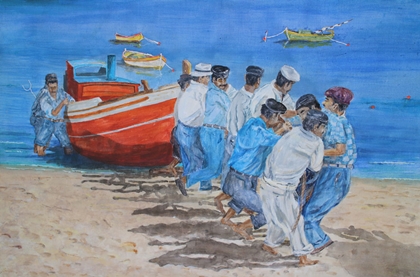 Nicholas Katris
My education was in Applied Art and my vocation was in Architecture and Interior Design and later in Teaching / Lecturing. From 2014, I channelled my gained knowledge and experience into the great world of Fine Art. I am a member of the Whitehorse Art Association attending regular art workshops and I have participated in exhibitions at the Whitehorse Art Association and Box Hill Art Society in 2015. My love for the sea and nature has lead me to paint seascapes and landscapes, now progressing to life drawing, considered the ultimate challenge for every artist. I enjoy sketching plein air (outdoors) photographing the scene and then composing and developing the painting. Figures are drawn from sitting models in studio and then developed into a composed painting — as the paintings I am submitting. My portfolio since 2014 includes over 45 paintings. At present I consider myself and by my peers as a realist painter, gradually developing as an impressionist. My immediate challenge is to develop from the controlled world of Applied Art inherited over the years to the freedom of expression which Fine Art provides in painting.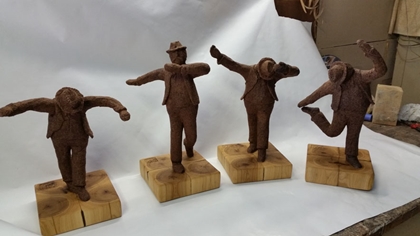 Nikos Siouzios-Maher
I am a self-taught carver from the mountainous region of N.W. Epirus, Greece, where people used to carve utensils and objects of every day use out of wood and stone. As a child I saw that a fork, a spoon or a tombstone wasn't just a utilitarian object, it had an artistic and creative side to it, the individuality of its creator. This is where all started and since then I do enjoy the challenge of releasing an image or a function from a block of wood, a piece of rock or recycled steel parts. I like diversity in my work, which includes functional furniture, busts, tombstones, abstract pieces made of wood, steel or a combination of raw and recycled materials. I have contributed to public art projects in Melbourne (Link Project – outside Hawthorn Aquatic Centre) and Greece, LibArt at Darebin, regular exhibitor at the Fringe Festival, Alphington Art Show, Alphington Open Studio and private commissions.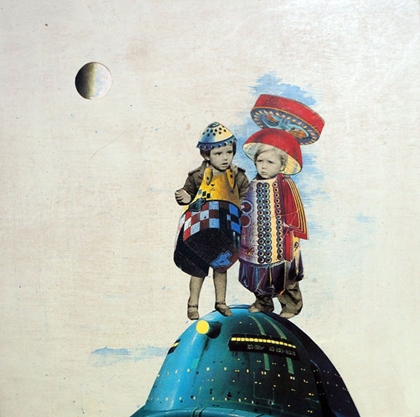 Anne Warren
The disparate cutouts I began selecting and assembling unknowingly led me to the creation of a series of joyful hybrid habitats for children including outer space, flowers and birds. The world is affected by human activity and in this work the habitats I have created are in harmony with the environment. From my collage series I have created these limited edition giclee prints. My art practice consists of collage, digital imaging, still-life painting, abstract, commissions and conducting Workshops in Art from my Alphington based studio.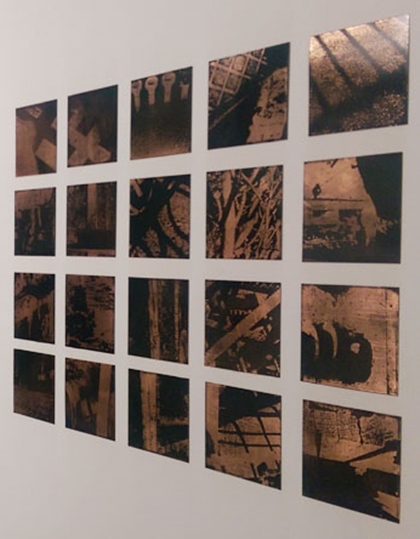 Masonik Arts Collective 
(Basil Psanoudakis, Antony Monaco, Wheldon Thornley, Paul Pax Andrews, Patrick Bindon). Grid Study is a work comprising of 100 15x15cm copper plate etchings of photographs. The photographic medium insists on a frame – a frame being by its very nature a component of a grid. Each photograph has passed through a photochemical processes & an etching on copper plate is the result. The Grid as the most fundamental transformation of order from chaos: An anti-entropic arrangement, and hence an aberration of the nature of the universe; the tell-tale sign of life… persistence of form. The presence of life leaves residues of order in its wake, slowly reclaimed by chaos.